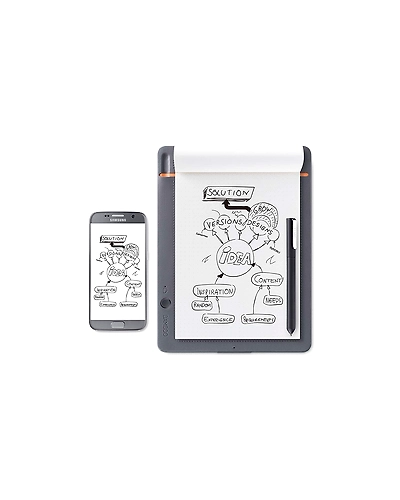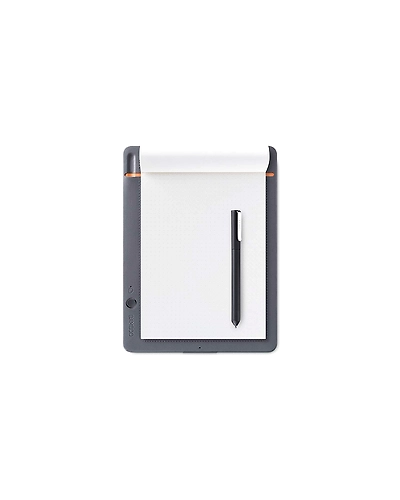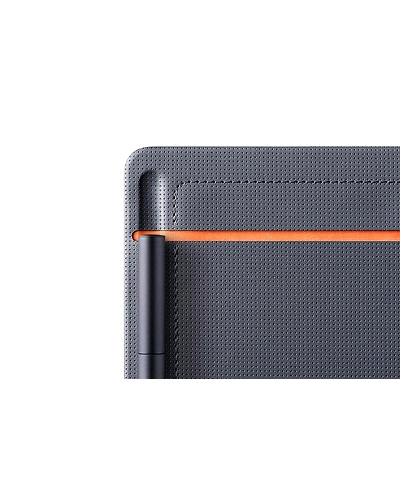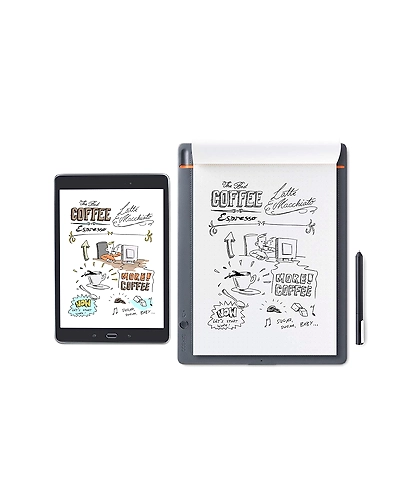 Wacom Bamboo Slate Small
You Save: 199. Discount 2.24%
| | |
| --- | --- |
| Brand | Wacom |
| SKU: | WacomBambooSlateSmall |
| Availability | Out of Stock |
Write a Review
The new way to take notes
Sick of having to type up all your handwritten notes? Good news: Bamboo Slate and Bamboo Folio do it for you. They capture all your notes digitally – which can then be exported as rich text or DOC files using the Ink to Text feature on the Wacom Inkspace app*.
The pen and pad accurately pick up all your unique handwriting quirks, meaning no details are lost. And you can work on whatever paper you choose – squared, lined or even a napkin.
Once you've got everything down, you can quickly sync notes to your device for sharing and editing. Plus, you can add a hashtag to each page, making easy to keep everything organized.
*Requires registration and a Wacom ID.Product description
Additional Information

Give paper new powers with our smartpads

Bamboo Slate and Bamboo Folio smartpads completely transform the art of putting pen to paper. They instantly digitize your handwritten notes and diagrams in remarkable detail – at the simple push of a button. You get all the magic of working with real ink, but can then edit, share and organize your handiwork with digital ink. Are you ready for new powers?




A visual thinker's best friend

If you think in diagrams, graphs and mind-mapping, Bamboo Slate and Bamboo Folio are the perfect companions. You can start by drawing on paper, then sync it to your device at the push of a button.




A pen sensitive to your needs

When it's time to digitize your work, you don't have to worry about losing any of the detail. Bamboo Slate and Bamboo Folio can pick up subtle changes in pressure from the Wacom Ballpoint pen – even through 80 sheets of paper.




Transport your ideas into the digital world

Putting pen to paper is just the start. When you're ready, you can sync your notes and ideas to the Wacom Inkspace app and develop them digitally.

The app's Ink to Text feature handily converts your handwritten notes to rich text or DOC formats, saving you the hassle of re-typing your work. And if you're keen to share your creative process, Inkspace can record your work as MP4 video files that show your thought process coming together line by line.

On the web-based version of the app, our Ink Collaboration tool even allows you to work on a real-time canvas simultaneously with your friends of colleagues. So you can continually work together, no matter where you all are.The pen sits snugly in your hand and its ink cartridges can be easily replaced. All you have to think about is what you'll create with it.Whatever you draw, it's easy to categorize and keep your work in order with our intuitive tagging feature. And you can doodle away on your favorite paper knowing that every stroke will be captured accurately.Bamboo Slate and Bamboo Folio smartpads completely transform the art of putting pen to paper. They instantly digitize your handwritten notes and diagrams in remarkable detail – at the simple push of a button. You get all the magic of working with real ink, but can then edit, share and organize your handiwork with digital ink.

Share your mobile (Android/iOS) or laptop (Windows) screen using Microsoft Team, Zoom app.

Save your handwritten notes and share them in PDF, DOC format over Email or messaging app

Convert your hand written notes to Text using Inkspace App